I finally got the boat out of storage this past Saturday. Yesterday (Sunday), I decided to put it on Saratoga Lake for a few hours to shake the rust off. It was a fairly blustery afternoon and water temperatures ranged from 44-46 degrees in most areas on the lake. These are what I consider perfect conditions for Saratoga. Hopefully, this report doesn't sound like it was written by an FLW Tour Pro.
We spent some time throwing jerkbaits in the shallows (specifically, perch colored X-Raps). It was automatic. I didn't keep track of how many fish we caught. I usually get a lot of doubt via the comment section when I post those numbers anyway. I acquired a Go-Pro camera this winter. Once I get it dialed in I will be sure to post a video of a 100+ fish day to put the doubters to rest. Spook Wizard and Picky Anonymous won't know what to do with themselves anymore.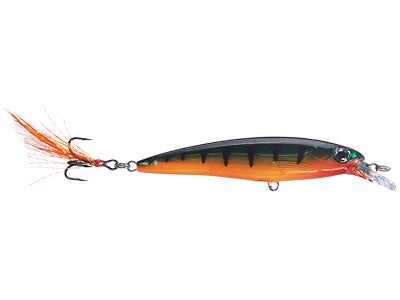 I spent the rest of my evening messing around with my new electronics. I can't seem to get a great side imaging picture at the helm so I am thinking I need to lower the transducer so it will be able to clear my turning chines. I am also having issues with my boat's computer system (despite purchasing a brand new computer this winter) so I may have to take it into the shop as the issue appears to be beyond my limited expertise. I am hoping I won't be side-lined for too long.
As always, thanks for reading and rejoice as open water season has arrived!